Doris de Hilster
From World Samba
Doris de Hilster is a Brazilian clothes designer and carnavalesca from Rio de Janeiro. She is best known for her work as carnavalesca or carnaval costume designer for samba dancers and dance companies around the world and for SambaLa Samba School in the United States.
Brazil
Doris was born in Rio de Janeiro and was raised in Macae Brazil, 3 hours north of Rio. At 8 years old, Doris moved to Rio de Janeiro where she attended school and university. Doris' carrer in fashion began in Copacabana in Rio in a small boutique store where she was recognized to have a talent for fashion clothes in general.
In 1988, she met American David de Hilster via an alpine climbing club and in 1989 was married. Soon after, the couple moved to the United States settling in Huntington Beach California.
Although her entire family in Macae was involved with Samba, Doris was never involved in Samba while living in Brazil.
California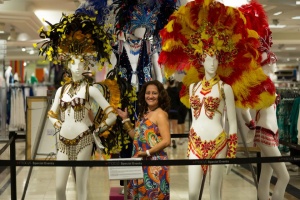 In 1992, Doris and her husband moved to an artist loft in Long Beach California where she opened up her first boutique store called
Samba Collection
where she manufactured and sold clothing. In 1994, she helped found
SambaLa Samba School
with her husband and learned to dance samba and for 2 years, was a samba dancer or "
passista
". During the first years of the samba school, Doris started using her clothes design skills and machines to start making costumes for the samba school.
For the next 20 years, Doris was quite prolific with her costumes selling costumes around the world via her world via her website for Samba Collection. She sold her creations and designs to dance companies in over 30 countries with many of her creations and designs appearing in parades around the world and on national and international television. Her store moved to the downtown Long Beach Mall, and then in Pine Avenue in Long Beach.
In 1998, Doris was chosen by The University of California in Los Angeles (UCLA) to be part of a touring show on the carnaval arts. She presented her costumes at a talk on the UCLA campus.
From 2002 to 2004, Doris and David purchased a restaurant where Doris was owner and manager and where the couple created a home base for their samba school SambaLa. There, they offered Brazilian food, Brazilian drinks, and a weekly samba floor show. In 2004, the couple sold the restaurant to start a family.
In 2009, she and her husband David were honored by Regina Caze and Marcelo D2 in front of a half a million people at the 2009 Brazilian Day in New York for their community work with SambaLa Samba School.
From 1996 to 2010, Doris helped produce the Brazilian Street Carnaval in Long Beach California and in 2011-2012, the Brazilian Day in Los Angeles along with her husband.
In 2010, Doris was contacted by a float company who was looking to do a Brazilian theme for a float in the world-famous Rose Parade in Pasadena. Doris, working with the float designer, created 65 unique Brazilian costumes worn by participants on and around the float.
In 2012, Doris was contacted by Macy's Stores in New York to display her costumes in the Macy's in New York for a big gala opening. Siting a schedule conflict, she instead put her display of costumes in the Macy's store in Orange County California near her home.
Florida
In 2014, Doris and her family moved to Boca Raton Florida to be closer to Brazil, to raise her daughter in a more relaxing setting, and to retire from their work with
SambaLá Samba School
. Doris opened her studio to Boca Raton Florida where she continued make and ship costumes around the world. In Boca, Doris also started working on alterations fixing clothes for high-end dry cleaners.
In 2015, SambaLá Samba School moved to Southern Florida where the school paraded in Boca in 2015, 2016 and 2018, and in Pompano Beach in 2016. Also in 2016, she moved her studio to Pompano Beach Florida along with a dance and music studio for their group SambaLá Samba School.
Current Work
Doris currently is owner and designer for Samba Collection's Alteration shops where she does alterations and tayloring as well as designing and manufacturing of Brazilian-style clothes for SambaLa and her private clients.
Doris Costume Highlights
1998 Honored as a carnaval artist at UCLA in California as an internationally recognized carnaval artist for the world-wide carnaval arts tour
1999 Launch of the Kia Motors "Rio" car in Seoul Korea
2010 Rose Parade with 65 costumes on and around the Jack-in-the-Box float
Costumes on Dancing with the Stars (two times)
2012 Chosen by Macy's to display her costumes as part of Macy's Brazilian designers theme
Honda Commerical (2009)
Honored designer at the Long Beach Fashion Week
2014 Super bowl commercial
Personal Life
Doris currently resides in Boca Raton Florida and is married to an American scientist, artist, and SambaLa President David de Hilster (1989), with whom she has one daughter Luanda de Hilster (2005).
External Links